Pork or the meat we get from pigs is one of the most common ingredient to our favorite dishes. Although there are certain health risks associated with too much consumption of pork, there are still people who continue to eat pork. Because of the high demand for pork, there are also people who venture into the fattening of pig business in order to earn a profit.
However, in a rather unusual case in Oregon, reports say that a farmer was allegedly 'eaten' by the pigs he was looking after.
According to a report by BBC, Terry Vance Garner, 69, went to feed his animals on his farm by the coast, but never returned home.
Investigators assigned on the case say it is possible that the hogs knocked Garner over before they devoured him. But they have not ruled out the possibility that the farmer could have collapsed from a medical emergency, such as a heart attack.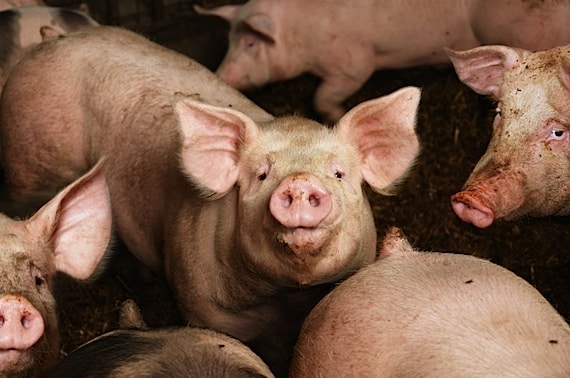 Furthermore, his dentures and pieces of his body were found by a family member in the pig enclosure, but the rest of his remains had been consumed. The animals are estimated by the authorities to each weigh about 700lb (320kg).
A pathologist was unable to determine the cause of Garner's death and his remains have been sent to the University of Oregon to be analysed by a forensic anthropologist.
Garner was a Vietnam war veteran who suffered from post-traumatic stress disorder, according to his brother, and the farm had been a "life-saver" for him.
In an interview with the media, Michael also said that his brother really considered the animals he was taking care of as his life. "He had all kinds of birds, and turkeys that ran all over the place. Everybody knew him," he said.
Meanwhile, Coos County District Attorney Paul Frasier reiterated that it was still unclear as to what really happened to Garner but they are still looking at all the possible angles of the case so that they can come up with a proper conclusion.