Li Lianjie who is known  to be Jet Li is a famous Chinese film actor and a producer. He's also known for doing his best on some martial arts. In fact, in his movies, he always had a part of doing and performing them. He always shocked everyone on his acting and martial arts performances. Recently, he shocked everyone again but in a different way.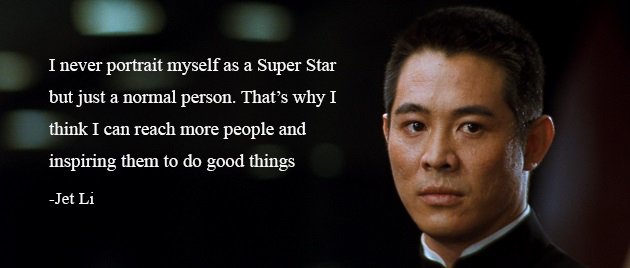 He shocked and surprised everyone with his recent photo which is prevailing in different social media sites now. He looked delicate after years of resisting a slew of his health problems.
It was widely shared in social media sites and this drew lots of concerns coming from the fans of a martial arts legend.
South China Morning Post   reported that Li, who appeared in major Hollywood films such as 1998's Lethal Weapon 4" and 2012's "The Expendables 2," was photographed visiting a temple in Tibet wearing glasses and a shaved head. The 55-year-old actor seemed to be needing some assistance while walking.
The star's manager Steven Chasman has told The Washington Post that he has hyperthyroidism. As quoted, "He has hyperthyroidism that he's been dealing with for almost 10 years. It's nothing life-threatening and he's dealing with it. I guess it's sensationalism."
Fans couldn't really believe it. Li actually revealed in 2013 that he was suffering from a slew of health issues, including hyperthyroidism, spinal problems and a heart condition. He was first diagnosed with an overactive thyroid in 2010 and took medication to control it.
Here are some things fans have said about it:
"He was so active before and now he looks like an old man."
"His Kung Fu is real and his films were great. Pity he's suffering from this illness."
"I couldn't even recognize him."
Li even said in one of his interviews, "Either [I] continue making [action] films or spend the rest of my life in a wheelchair,"
He previously suffered serious injuries to his legs and spine which also affected his movement. He said he couldn't stand for a prolonged period of time without hunching.
In the last few years, Li has dedicated most of his time to charity work. As a devout Buddhist, Li said his religious belief, meditation and scripture reading helped his condition.

He may looked like very different to what people have used to see him, many people especially his fans still showed and shared their love, support, and concern to the actor. He's still the same Jet Li that people had loved for many years.
UPDATE:
It turns out that the legend was a victim of fake news as his manager reveals to Washington Post the truth about the viral photo.
According to the interview of Washington Post, the guy on the picture is not Jet Li but a bad photo of somebody else.
Source: Fox News