Alejandro Ilagan Atienza or more commonly known as Kuya Kim Atienza is a popular television reporter, host and fitness enthusiast in the Philippines. He became famous after being a weather anchor in various news programs of ABS-CBN. Many people also admired him for giving useful trivias while reporting.
Since then, Kuya Kim have had more projects in the network including a show of his own entitled "Matanglawin", he also worked as one of the hosts of the noontime show, "It's Showtime".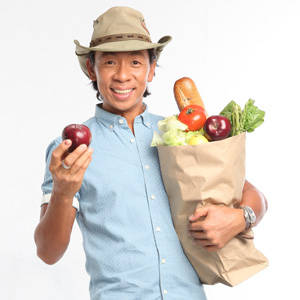 However, a few years back, Kuya Kim left the show for good and people were intrigued as to what the reason might be because Kuya Kim started to lose weight since them and physical changes in his body were really noticeable.
It was later revealed that the anchor was suffering from a rare disease, the Guillain-Barre Syndrome. This is a disorder in which the immune system attacks healthy cells. It often leads to weakness, numbness and tingling sensation. As it gets worse, the patient may suffer paralysis.
Through a post on his Instagram account, Kuya Kim shared his journey of trying to cure his condition. He also shared facts about his disease so that everyone will be aware of its dangers and at the same time be inspired of his amazing battle with the disease.
Now, after bravely battling with the rare disease, Kuya Kim is spotted healthy and happy again in photos he shared on his Instagram account during Coleen Garcia and Billy Crawford's wedding.
The photos showed that Kuya Kim has somehow regained his physical health as he was happily posing with the newly-wed couple.
Although Kuya Kim's true condition is still not known to the public, we hope and pray that he will end up victorious in his endeavor against the deadly rare disease.